STORYTELLING - Words and Images by Eric J. Keller
Brooklinn Khoury (follow #ProjectSoul365 on Instagram)
On November 3, 2020, pro skateboarder and model Brooklinn Khoury's life was forever changed. While vacationing at her cousin's home in Arizona, she was viciously attacked by their family dog, a Pit Bull that she had met many times before. Brooklinn recalls, "I was standing, and he was sitting — he literally just sprung up. And he was literally hanging — literally like arms, legs hanging off of my lip. And my first instinct was like, 'Oh my God, get on the ground with him, hold his head, go wherever he goes'. Finally, I felt a release. And then, something flew and hit the wall. I looked down and my whole shirt was just blood — like blood, blood, blood everywhere." The dog had bitten off her entire upper lip and part of her nose.

One full year after the incident, Brooklinn had the first of several reconstructive surgeries - a 20-hour procedure - removing skin, tissue, and a main artery from her left arm and grafting it to her face to begin the long process of creating a new upper lip. Last week she had her third surgery - a 10-hour procedure to reconstruct her nose. Brooklinn knows that she has a long road ahead, and she absolutely trusts the process.

Brooklinn's courage and positive attitude in the face of overwhelming circumstances are truly inspiring. "I think the most beautiful thing is sharing our struggles and our differences because the more we share the less alone others feel. I am only flipping off society's standards of beauty. Ever since the attack, I have been looked at very differently because I don't look like the social norm. I want you to know that you are beautiful in all ways. Regardless of any situation, you are going through, mentally, or physically. It gets better. Be patient with yourself and learn to love everything you see."
Alex Perez (follow #ProjectSoul365 on Instagram)
Although Alex Perez (age 71) was not diagnosed with Post-traumatic Stress Disorder until many years after his service in the Vietnam War, he had suffered from it since he was a little boy. At the age of 6, his 27 year old father died in his arms, due to complications from severe alcoholism. When Alex was 10, his 31 year old mother died in his arms after being critically wounded at the hands of Alex's step-father. Born and raised in Bernalillo, New Mexico, Alex witnessed 10 deaths of family members, young and old, before his 15th birthday.

At age 20, he was drafted into the service and sent to Vietnam as a radio operator. However, due to his small stature, he was soon recruited to be a "Tunnel Rat". The young soldier would have a rope tied around him and descend into the dark unknown; underground tunnels, arsenals and barracks. Once there he would seek out the Vietcong with only one mission - destroy the enemy, using hand-to-hand combat. The day that I photographed Mr. Perez, he mentioned that he had been awoken by a violent nightmare early that same morning. It was about one particular incident that happened underground, fifty years ago.

Like the vast majority of soldiers returning from Vietnam, Alex did not receive a hero's welcome. He described various incidents to me, including being hit in the face so hard with a rock that it knocked out his front teeth. What followed were two volatile years lost in drugs and alcohol, simply trying to cope with the horrors that he had both witnessed and participated in. Then, in 1970, his entire life changed forever. He had been invited to a party, incorrectly assuming there would be drugs and alcohol. It turned out to be the meeting of a group of practicing Buddhists, where he was introduced to a form of chanting that he still practices today. Through Buddhism, Alex found his way out of the darkness and into the light. He also met his future wife at this meeting, whom he would marry in 1974. They are still together 44 years later and have 4 children.
Alex is now retired and classified by the government as a '100% disabled' Veteran. He lives just a few miles from where he grew up. I do not think that I have ever met someone that has been a first-hand witness to so much tragedy. Any single one of these life-altering events would have been more than enough to push some people over the edge from which there would be no return. Yet, Alex seems tremendously joyful and at times, even at peace. He shared a very touching story with me about a conversation he had with his grandfather at age 14; one that unwittingly seemed to draw several key parallels to Buddhism. "How happy do I want to be? I am the answer to that question". We not only choose who we want to be, but HOW we want to be as well.

Alex and I met quite by chance about one month ago, at a concert where his youngest daughter was performing. As he pointed out to me though, there are no coincidences. We met for a reason. Frankly, I couldn't agree more. Alex has every reason on earth to be angry at the world, but he has chosen a better, brighter path - one which he delights in sharing with other people, regardless of their politics or religion or anything else. We are truly all in this together and I am extremely honored to be able to share a little of this wonderful human being's journey with all of you…particularly today, Veterans Day. Thank you for your service to our country, Mr. Perez, both 50 years ago and today.
Joanne Lefrak (follow #ProjectSoul365 on Instagram)
Three years ago today, Joanne Lefrak was hit by a car while crossing the street. The impact practically knocked her out of her boots; the same boots she is wearing in this portrait. It also tore most of the ligaments in her right knee and ruptured her MCL and her ACL in her left knee. Her right hamstring was also detached, and she suffered a brain bleed and other trauma from the accident. Multiple resulting surgeries left Joanne with long scars on both of her legs, but they also restored her ability to walk, after seven intense months of initial recovery time and extensive physical therapy.

Today, Joanne continues the work she has done for the past 17 years in her role as Director of Education and Curator of Public Practice at SITE Santa Fe. She develops and leads many innovative programs with a uniquely creative approach. Lefrak curates all public programs and performance art for the institution and works with artists to co-create commissions enacted with the community. Since 2011, Lefrak has volunteered as the Chair of the City of Santa Fe Children and Youth Commission and has worked to improve the lives of children by supporting local non-profit and school programs that work for youth. As a visual artist, her work has been exhibited throughout the United States, as well as internationally. Joanne is a prime example of someone making the most of every moment of their precious time on this planet.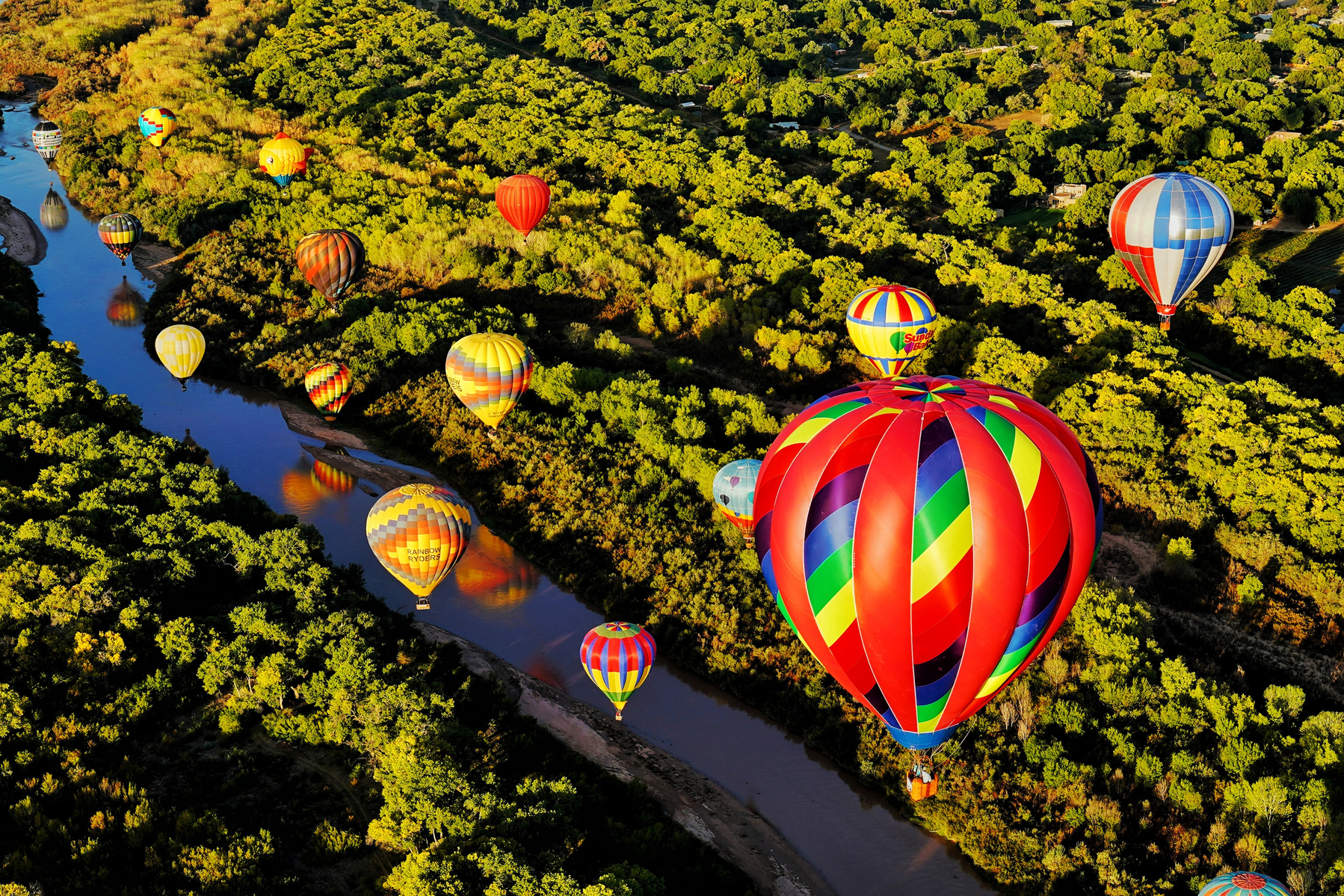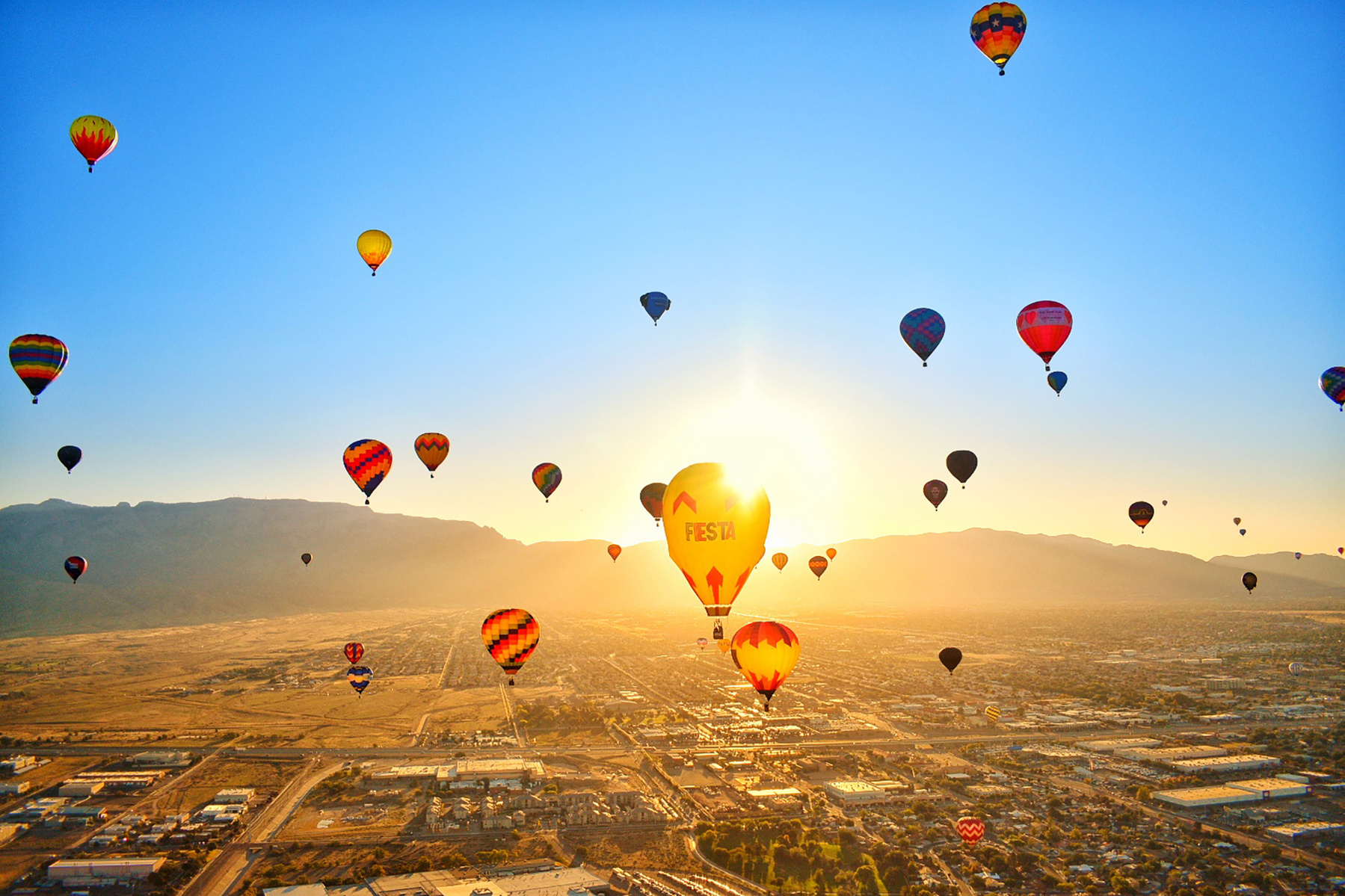 The Albuquerque International Balloon Fiesta
Every October, The Albuquerque International Balloon Fiesta draws over 800,000 spectators and 600 hot air balloons to The Land of Enchantment. The event is the largest of its kind in the world and also claims to be the most photographed event on Earth. Make your plans now to attend this year's Fiesta, October 1-9, 2022. With a dedicated launch field that's the size of 54 football fields combined, there is plenty of room for you and your family too!

(Image 3) Kevin French is a Launch Director at the Albuquerque International Balloon Fiesta. This team of volunteers help direct balloon traffic throughout the Fiesta, assisting pilots at liftoff. They are affectionately known as "Zebras". Zebras follow a carefully orchestrated pattern to keep the balloons moving safely and steadily toward launch. The work is demanding, but the rewards are great. These men and women dress the part and are a very recognizable part of the event, the largest of its kind in the world.

(Image 9) Yesterday at the 48th annual Albuquerque International Balloon Fiesta I had the privilege of flying with one of the most unique co-pilots you will ever meet. Say hello to Bandit, a therapy dog who flies with pilot Jeff Haliczer of the Empty Pockets Balloon Team from Reno, Nevada. In the six years since they met, Bandit has logged over 300 flights throughout the United States. They make a great team and it was an absolute pleasure to fly with both of them. You can follow Bandit's adventures on Facebook at "Bandit The Balloon Dog". He even has his own trading card!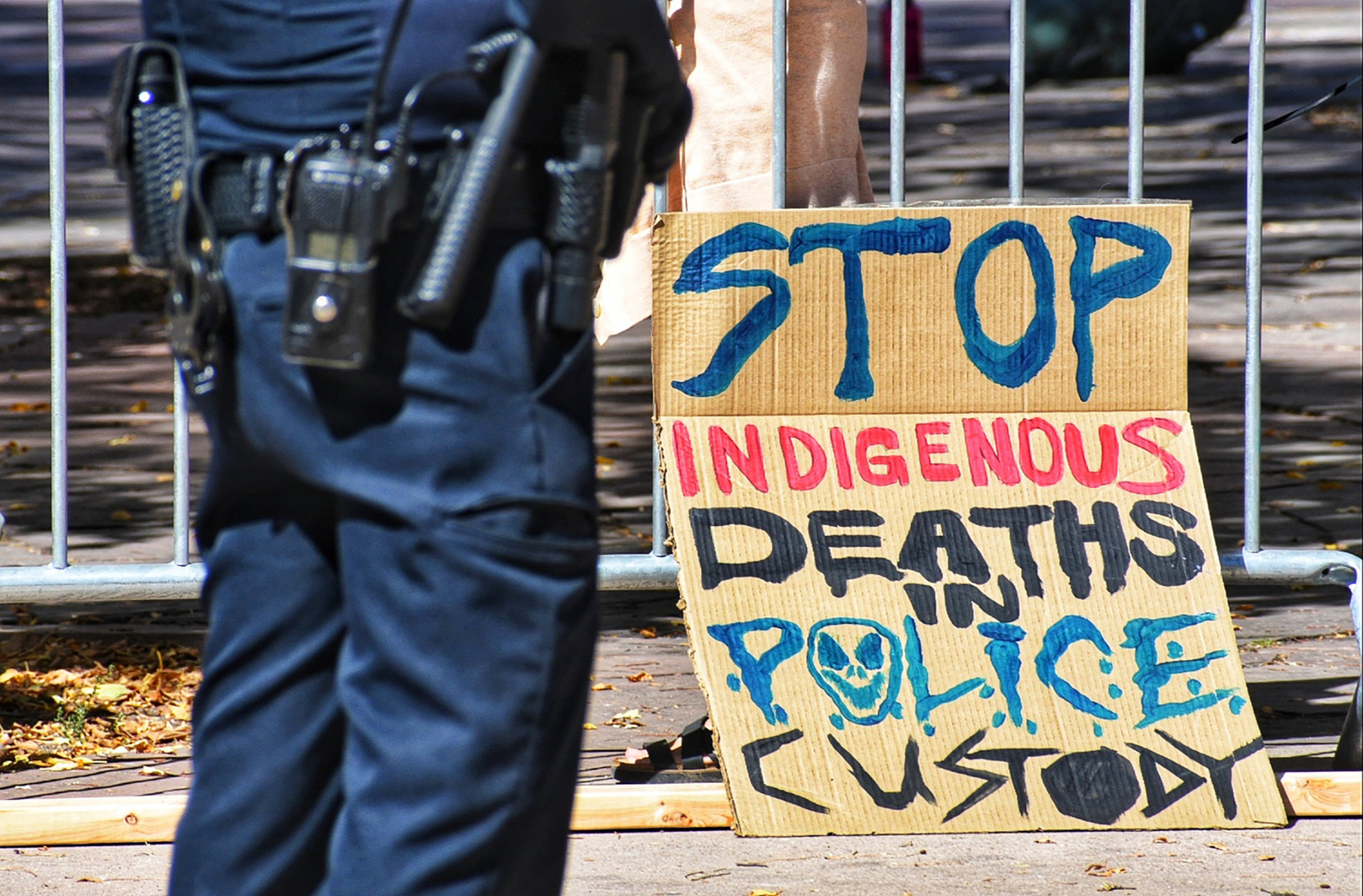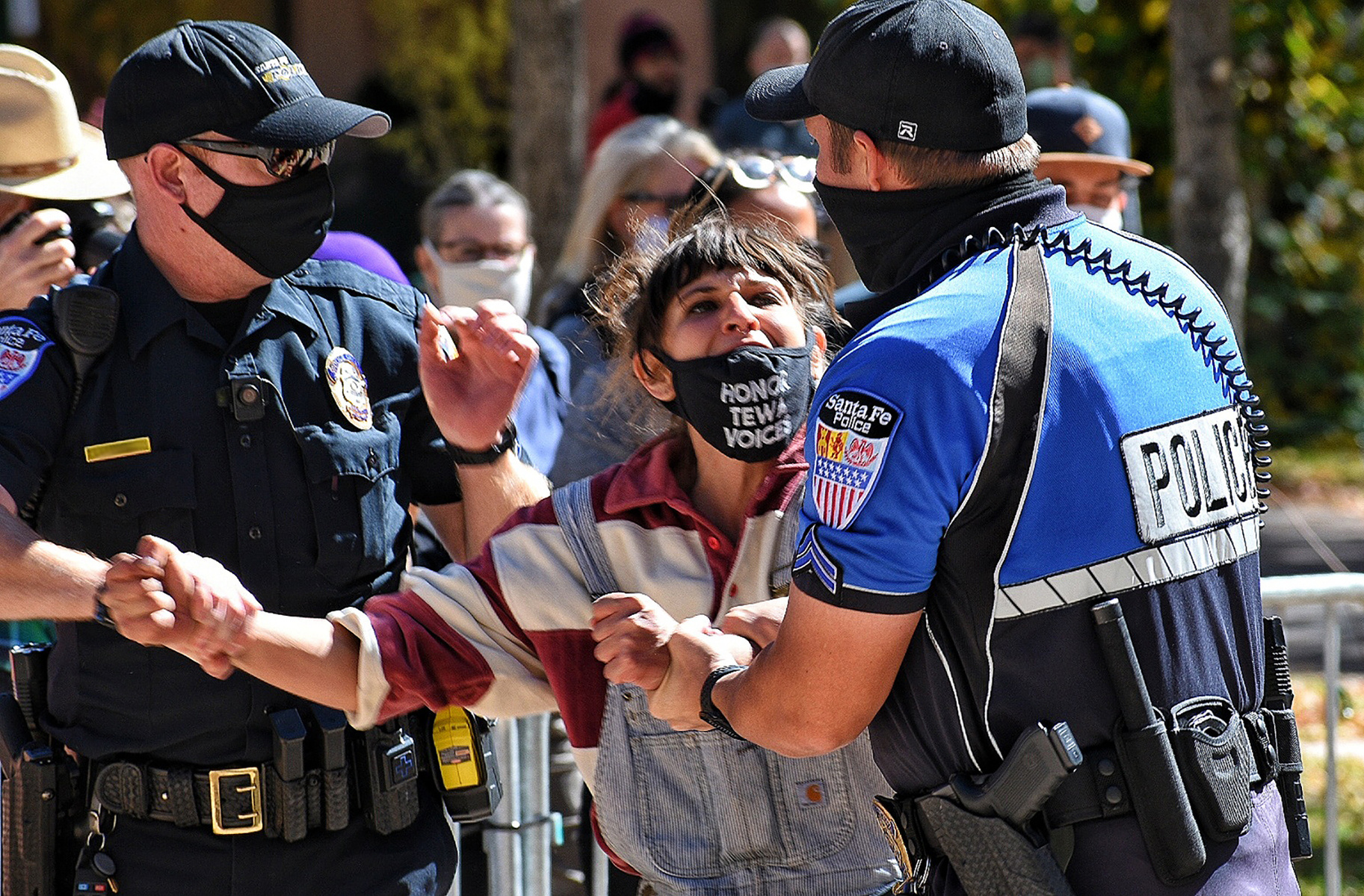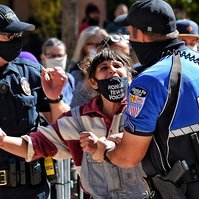 Indigenous Peoples Day 2020, Santa Fe, New Mexico (Occupied Tewa Land)
"It's time to stop celebrating conquest."-Santa Fe Mayor Alan Webber, June 17, 2020

October 12, 2020 - Today, 117 days after the Mayor of Santa Fe made this statement and called for the removal of the monument, then seemingly did nothing to affect positive change, Indigenous protectors and their allies took care of some business they felt was 152 years in the making. The Soldiers Monument was erected in the center of the Plaza in Santa Fe in 1868, eight years after the New Mexico Territorial Legislature adopted a resolution stipulating that all the "Indians of New Mexico" be removed to northern Arizona. One side of the monument's inscription read, in part, "TO THE HEROES WHO HAVE FALLEN IN THE VARIOUS BATTLES WITH SAVAGE INDIANS IN THE TERRITORY OF NEW MEXICO".

"While many Union soldiers did fight for emancipation in the East, Union soldiers in the West fought for Native annihilation and removal. Most Americans are not taught the history of the Union Army in the West, and its campaigns against Native peoples. The monuments in Santa Fe glorify the settler colonialism enacted by Union troops."-The Atlantic Magazine, July 2020.

In the wake of these and other events throughout the summer and fall of 2020, the city of Santa Fe created the CHART project (Culture, History, Art, Reconciliation and Truth), which will be overseen by the Albuquerque-based nonprofit Artful Life. Over a twelve-month period, this group will facilitate a series of public discussions, interviews and surveys on controversial monuments in Santa Fe. According to their website, "This is the beginning of an ongoing effort to learn and understand our complex histories and stories, and to promote truth, healing, and reconciliation for a future of peace and justice for the Santa Fe community."